Dear Colleagues and Friends,
Windpferd is very delighted to show you its recent rights list for fall 2013. You can definitely find the ideal title to suit your taste and your program, therefore please feel free to browse at your heart's content.
This time we have our focus on mindfulness. Two "power-women" – two strong titles: Barefoot Step by Step by Doris Iding and Experience Mindfulness by Mike Bauer. The first book (including a 52-card deck) teaches you how to reduce stress and promote emotional and physical wellbeing whereas the second is aligned on learning mindfulness in only twelve steps.
Remo Rittinger, one of the most experienced European yoga therapists has condensed his comprehensive holistic knowledge in his practice-oriented manual Trust the Master Within. With the help of easy exercises accompanied by reflections on everyday situations you attain clarity and peace of mind.
If you want to have a closer look at our titles, I can send you PDF-files or hard copies, just let me know what you prefer.
This fall Windpferd is attending the Bookfair in Frankfurt again, so I would be very happy to meet you at our booth in hall 3.1. / C 95 to have a chat and show you our new releases. If you want to settle an appointment, please feel free to contact me.
Wishing you a wonderful summer I remain
with best regards,
Cristina Perlea
Foreign Rights


Bestsellers & Backlist: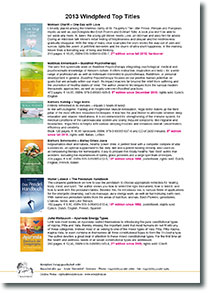 Rights Top 6 2013
PDF, approx. 1 MB
Download