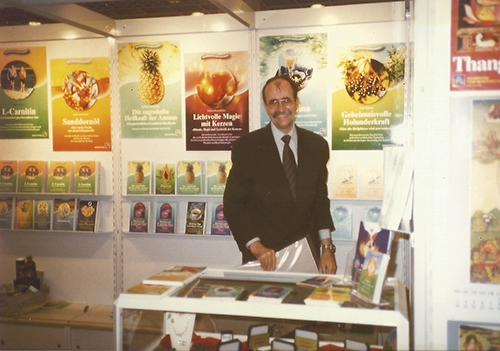 On December 10th 2019, my publisher and friend Wolfgang Jünemann passed away after a long and enduring illness and an incredibly adventurous life.
Thirteen years my senior, I did not know him well as far as his personal history is concerned. Here is my attempt to honor the life work and legacy of my friend, whose spiritual books are to be found in millions of households all over the world. Countless authors owe him what and where they are today: I am just one of them.
As many of you know I was born in 1960 in Düsseldorf, then a town of about 500.000 near the Dutch Border in Germany. Life was interesting in those days, to say the least. The war was only fifteen years behind us all, the industrial revolution was beginning to generate not foreseen wealth and a multitude of opportunities. The hippie community, of which I was one of the last members, was at the end of their wits.
The frustration and disillusionment with society and life as such culminated in the mid-seventies, with the rise of three streams: Some of the hippies in group one gave up and became conformed to mainstream society.
The second group followed the Beatles and the Who on their quest towards spirituality and the third group became violent and joined the Red Army Fraction.
As a youngster of 15 with the potential for all the three options, I was "dazed and confused" and by chance came across Meditation and Eastern philosophy. It saved my life.
I read Karl Marx, Friedrich Engels, Count Kropotkin first, then Jerry Rubin, Jack Kerouac and Henry Thoreau.
Next I discovered Timothy Leary, Aldous Huxley and John Lilly.
Later on I found Tolkien, Ram Dass (who just passed a week ago), Christopher Bird, Walter Evens Wentz, Lama Angarika Govinda , Carlos Castaneda, Paramahansa Yogananda and the great literary works of Buddhism.
What I did not know then was that my later publisher, Wolfgang Jünemann was instrumental in distributing spiritual literature at a very early time. With his friend Sylvia Luetjohann he opened the Frankfurt based book store Middle Earth in August of 1971, which sold English classic spiritual literature like "Be Here Now" by Ram Dass, "Mandala" by Jose and Miriam Arguelles and later on the books of Chögyam Trungpa Rinpoche. In May 1972 they published the magazine Middle Earth, which was followed by the Irisiana Publishing company that was bought by Hugendubel in 1984 and started anew with Windpferd/Schneelöwe later on.
The Thangka Calendar that adorned many of your houses (which I could not afford as a teenager) was one of his favorite babies, published from 1974 onwards. The same year saw the reprint of "The Meditation Sutras of Mahayana Buddhism" in cooperation with the Swiss Origo Publishers. The Windpferd Verlag, my main publisher, which is now under the direction of his daughter Jenny Jünemann, was founded in 1986.
I met Wolfgang and his delightful wife, Monika at the Frankfurt Book Fair in 1997 upon publishing my first book "Reiki Fire" -after being introduced to them by my friend and fellow author Walter Lübeck. Wolfgang had just had a stroke in April 1996 and could not talk and walk well, but we understood each other's silence and the desire to communicate the unspeakable.
Conceiving, planning and working on book projects with the two of them was a dream come true. Contracts were made over the phone in less than five minutes, the art work was decided over a glass of wine in their kitchen, and an atmosphere, of love, respect and easiness permeated the pages… Over the past twenty-three years we published ten international Reiki Bestsellers in twenty- two languages and a couple of CD's. God knows where I would be without Wolfgang and Monika now. Certainly not here!
I can only guess, but for lack of having met him before his first stroke, he must have been a strong character, with a razor-sharp mind and imposing personality steeped in crazy wisdom. Standing about six feet four he was unlike me, not an easy going fellow.
Once I asked him if he had any recollections about the time he spent in an artificial coma that lasted for a week. "Bardo" he answered and what was an esoteric theory in my mind until then became a reality. I would have liked to ask him so many questions about his spiritual teacher, Chögyam Trungpa Rinpoche whom he met in Colorado and the visit of the 16th Karmapa in Europe in 1977, but communication was held to a limit due to his sickness.
We always kept in touch, and I made it a point to see him at the yearly Fairs in Frankfurt and also to spend private time together at their home in Bavaria many times a year. We shared the same taste for Rock Music, Buddhism, red wine, Darjeeling tea, Vegetarian food and the love of everything of beauty. Tom Petty and the Heartbreakers blasted full power out of huge speakers looking onto the alps that he loved so much.
A second stroke left him almost completely incapacitated in August 2011at a care facility in the Alps, but he fought for his life like no one I had ever met before. He could move only the left side of his face and cry. But what an expression when you walked in that door. Life is precious, remember that. The last memory that stays with me is of him dancing a "finger dance" with my adolescent daughter Christina to a song of the Rolling Stones.
In the end all that remains is Love. Wolfgang was and is one of my few personal friends, that altered the path of my life in a direction never anticipated and for this I feel forever, grateful.
This Life – for Wolfgang Jünemann

On the way home
From your funeral
I pass infinity
It does not take
Very long indeed to get
From here to here

You share more unspoken
Words with me than anyone
We laugh and cry
Knowing that we understand
Each other's hearts

The incense burns slowly
As leaves fall and cover
The path with their impermanence
No one escapes their own fate
No matter how light it may be

This is an unusual friendship
Guided by crazy wisdom
And a good measure of madness
We oscillate between the Millenia
You name the time and place

Life purifies us thoroughly
The fire of annihilation
Is built with ever glowing embers
This self must die
And this, is the right time

Sinner, saint, beggar man, thief
In this life and in those before
I am everything while you and I
Think that we know each other well
A beautiful fragment of a distant star

Beyond the heart of the Sufi
The clarity of a Buddhist
The devotion of a Muslim
The surrender of a Hindu
And the kindness of a Christian

The sutra transports the formless
In between two breaths
We stand like reeds
So flexible yet motionless
Knowing that we will miss you
We already do

Yes, we will meet again
Friends and enemies alike
To work the miracle, ride the tides
Forget and then
Remember again
January 1st, 2020, Frank Arjava Petter